On Monday 3th of June, Apple released the anticipated and highly speculated iOS 7. The OS used by tens of millions people around the globe received a massive visual overhaul. Many agree that iOS from 1.0 (called iPhone OS back then) all the way through 6.0 had remained mostly the same in the way of look and feel, so it could be said that it was time for refresh. Unlike OS X, which has received mainly incremental visual updates during the 12 years of its existence, Apple took a much more drastic step with the 6-year-old iOS. It probably wouldn't be wrong to say that this is the first major design initiative Apple has taken in post-Jobs era.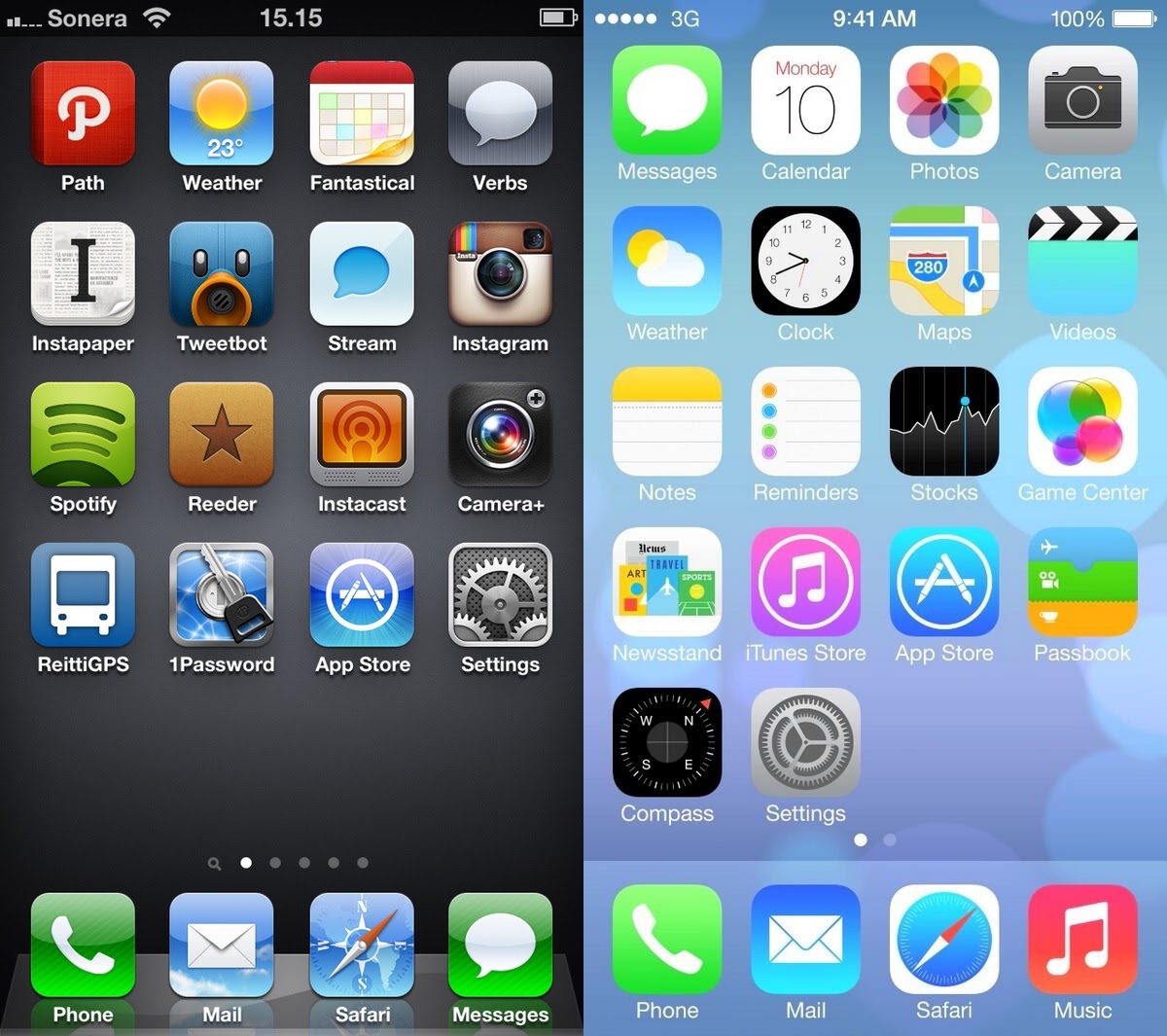 Aside the visual changes, there are many new and exciting UX features that I'm looking forward to try myself, such as quick access to most commonly used controls with Control Center and navigating back using swipe gestures. However, visually iOS 7 is a mixed bag and the more I think of it, the more it worries me.
So What's Wrong With iOS 7?
Apple with the lead of Jony Ive has clearly tried to approach with a cleaner design by removing heavy textures and gradients, and minimizing or completely removing UI chrome. In a sense the design approaches Microsoft's clean, print-like Metro design language. However nearly everywhere where graphics haven't been stripped away, the new GUI elements are often either made hastily or I'm just not eating the same pills as the artists in Cupertino.
The issues I have with different GUI elements would be an article of its own so I'm only going to concentrate on the worst offender, home screen iconography. With few exceptions most of the home screen icons are childish, cheap and unimaginative.
Oh Shut Up, You Are Not A Designer!
No I'm not. In a sense, as a customer of Apple, I'm paying them to do that job. I've grown to appreciate Apple's aesthetics and attention to detail with both industrial and graphical design. Nearly every single pixel or piece of aluminium coming from Cupertino aspires designers globally to pay more attention to detail and improve. I would even argue that since the release of iOS and App Store, UI and UX design of mainstream software has taken giant leaps forward. All this being said, all the history that Apple as a brand carries, I am baffled with what I'm seeing in iOS 7. And it seems that I'm not alone.
In iOS 6, even in the infamous casino-inspired Game Center, or in the heavily skeumorphic first version of Podcasts app you could see that Apple's designers had sweated over the pixels. Maybe so heavy handed graphics and skeumorphism were out of place in these apps, but at least they didn't look like something stolen from Microsoft Office Suite's clip art.
Whole OS Is Overhauled! Who Cares If Few Icons Were Hastly Made?
Apple used to care. Is there a more iconic contemporary technology image than iPhone and its home screen? This grid of icons has become a symbol of modern smartphone experience. It's the face of the most popular consumer electronics devices in the world. Hell – iOS 7 home screen is even on the front page of Apple.com! It is the first touch Apple thinks the world should have with their new OS. As a graphical designer in Apple, how can you afford not to pay attention to that?

Only days since the revelation of iOS 7 we are already seeing far superior versions emerging from the designer community. So surely there will be many revisions from Apple before the final version of OS and it's design is shipped.
In a way, both iOS 7 and OS X Maverick are telling that this is a different Apple than 6 years ago. This Apple's inner critic is not the only voice, but this one listens to the audience and looks validation from the users. But have we lost something in the transformation? Have we lost the attention to detail? Have we lost the artist who worries over the correct gradient of an icon (even when it's only preview version of OS)? Have we lost the crazy passion to get it right first time? If the home screen isn't worth attention anymore, I am afraid we have truly lost something.